Where we Are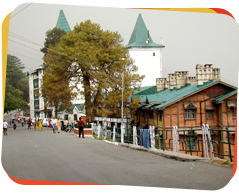 Marley Villa is located in the lap of the Himalayas and has a mind boggling variety of flora and fauna. Guests can savour the heady pine and rose-scented air, the musical symphony of the various birds serenading nature, leaving them with a truly enchanting experience.

It is barely half a mile from the "Heart of Shimla" or the Shimla Mall. It is surrounded by the natural scenic scape of towering pine and deodar forests. Marley Villa is a heady mix of turn-of-the-century old world charm and a modern sensibility that caters to the needs of the present day traveller.

Travel options by Air, Rail and Road are available
Air: The nearest airport is at Jubbarhatti, 23 kms from Shimla town,

Rail: Shimla is connected by rail up to Kalka. The railway station is located 5 kms from Marley Villa.

Road:. Shimla is very well connected by road from Chandigarh (124 Kms), from Kalka (110 Kms) and from Delhi (385 Kms). The drive from Delhi to Shimla takes approximately 8 hours and from Chandigarh to Shimla, approximately 3 hours. The vehicle comes up right to the Villa long driveway, barely 4 – 5 steps would lead our guest inside Marley Villa.
How Long to stay
For a holiday to actually feel like one, it must give you enough time to unwind, absorb and feel refreshed.

From the feedback of our guests, a minimum of 3 nights is recommended, as guests like the first day to relax and enjoy at Marley Villa, another day for visiting the famous Shimla Mall. The third day one can some sight-seeing, you should add additional days since Marley Villa is ideally positioned at such a base to explore the entire Himalayas within a day's drive as well.

The happiest guests have been those who have stayed at least a week. Special packages could be worked out for long stays if you intend.